Background
In 2013, Caritas India and CRS India initiated a three-year pilot to strengthen the capacity of local Diocesan Social Service Society (DSSS) partners, as part of the commitment to serve them in a meaningful way. Initially a three-year pilot, CRS found that the beginning years were needed to support the partners in strengthening their capacity in two key areas. To ensure time to implement the remaining aspects of the projected plan, the pilot was extended from three to six years. The Holistic Organizational Capacity Assessment Instrument (HOCAI) was conducted to inform a comprehensive capacity strengthening plan.
Caritas and CRS closely accompanied each of the DSSS partners to strengthen their organizational capacity based on the findings of the initial HOCAI assessments. It was initially decided that a follow up HOCAI would be conducted after comprehensive capacity strengthening support to reflect the changes after five years of intervention. During the second round of HOCAI assessments, it was realised that the resulting capacity strengthening plans could be more comprehensive and effective, if certain commitments from either side were documented. It was also realized that administration of the HOCAI should be done every two years. This led to the development of the Partnership Compact Framework, which acts as a dual feedback mechanism for the capacity strengthening action plan development and its implementation.
At present the Partnership Compact is signed for two years after Round I of the HOCAI. Capacity strengthening support is provided as per the plan then round II of the HOCAI is facilitated by CRS to reflect the changes that resulted from the interventions.
Collaborative but not Contractual
The Partnership Compact is a non-binding agreement with objectives and a two-year road map that partners develop in collaboration with CRS based on the priority areas revealed during the HOCAI assessment. The purpose is to write a joint action plan for cooperation between CRS and the partner, which includes technical assistance and support for service delivery, support for organizational policy reform, and other capacity building support as required. Coordinated commitments for accompaniment are also included in this agreement. At the end of the two or three-year timeframe, the expectation is that, in addition to CRS-partner improved partnership and programmatic relations, local partners will be in better position to assume primary responsibility for management, strategic direction, performance monitoring, decision-making, coordination, and, where possible, local resource mobilization and improved service delivery.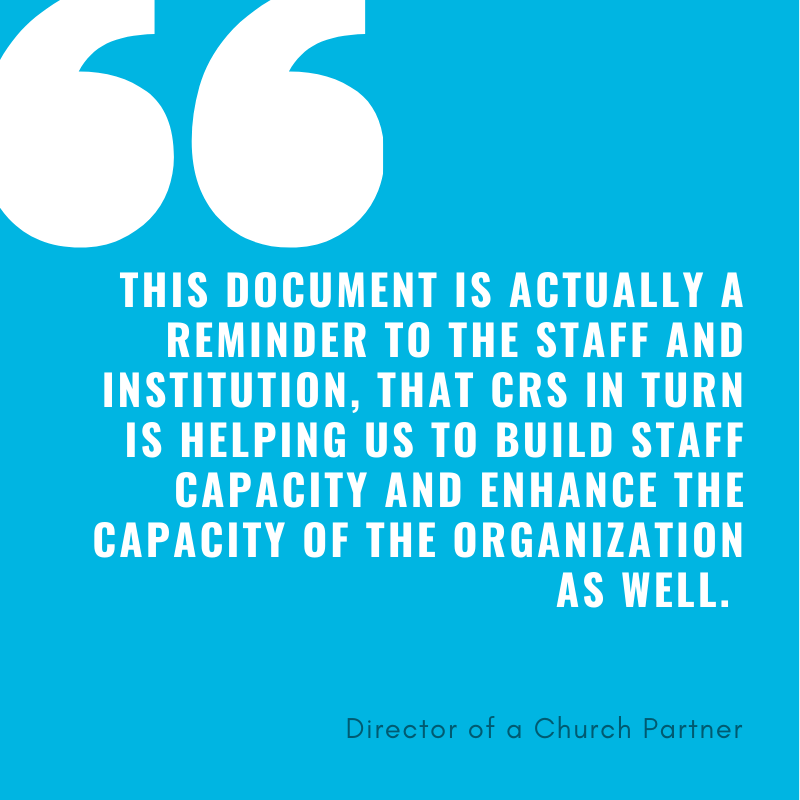 In the two years since the introduction of this tool, six partners have signed the Partnership Compact with CRS providing support. The document has helped CRS and partners to follow up with concrete plans of action for their institutional strengthening process derived from their HOCAI results.
Outcome
Partners have:
• Developed strategic plans
• Developed an external fundraising plan
• Revised their human resources policy
• Strengthened their inventory management system.
You can view the guidance for the Partnership Compact and a sample Framework on MyCRS.