Article by: Pascasie Musabyemungu, CRS Rwanda
Grounded in Catholic Social Teachings as the basis of working with the Church, this article talks about how CRS Rwanda and Church partner relationships reflected subsidiarity and mutuality in achieving key milestones in Church institutional strengthening project.
Over the past nine years, CRS Rwanda and the Church, across the country, have developed a unique partnership centered on professionalizing management systems and strengthening accountability structures at various levels of the Church structure. The Catholic Church of Rwanda currently has 9 dioceses, 189 parishes comprised of 980 sub-parishes and around 29, 000 basic ecclesial communities. The partnership includes all 9 dioceses to varying degrees.
The CRS technical approach consists of the creation of a joint road map, implemented through a cycle of internal and external reflections, assessments and dissemination of assessment results; prioritization of next steps, development of sustainability plans and ongoing adaptation and provision of advisory services. This approach has led to long-term strategic plans, which are realistic and match the Church's vision.
Overall, CRS contributed financial support and expertise to planning, reporting, human resources, financial resources and assets management; while dioceses contributed by providing offices, conference rooms and lodging for priests during the trainings. This collaboration has increased cost effectiveness versus CRS directly providing multilevel trainings.
Throughout the process, CRS Rwanda has provided multi-level capacity building and accompaniment to national individual Church officials and teams; while tailoring management advice according to the individual needs of the diocese. Workshops, trainings, meetings and on-the-job trainings were replicated for the next level of partners.Church diocese replicated assessments and trainings to harmonize management in all commissions, parishes, sub parishes, schools, health centers and income generation units.
Institutional capacity strengthening impact is tangible on different levels of nine Rwandan diocese.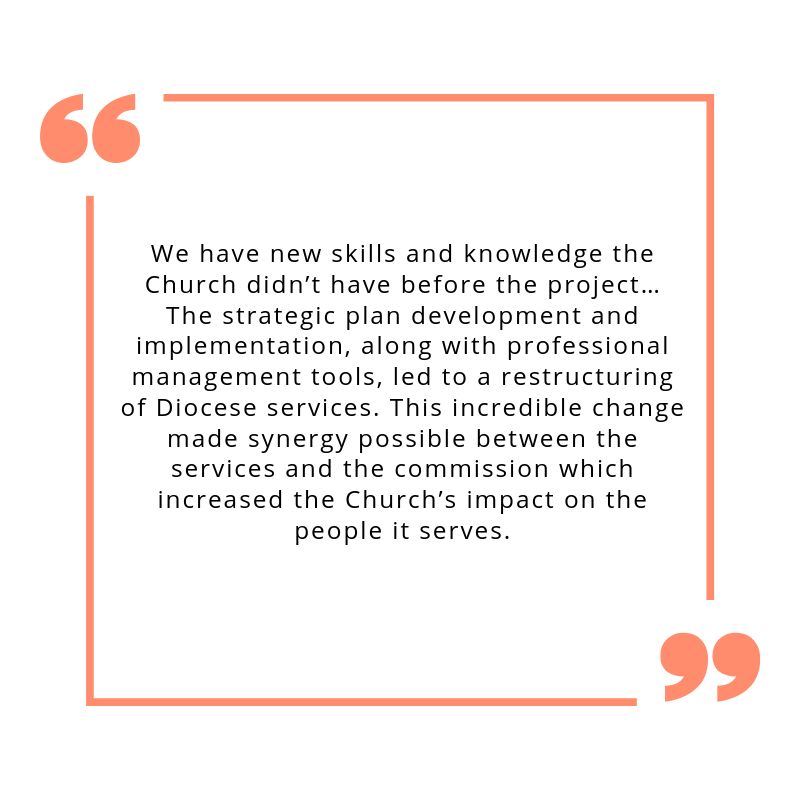 As part of its outreach, the Diocese of Kibungo has recruited an agronomist who is responsible for the implementation of the Diocese's agricultural projects. The preferred crops to be planted on Church land are beans, which are rich in vitamin A, sorghum, rice, corn and soybeans. In order to better serve the beneficiaries of the Diocese, a portion of the Diocese's land was ceded, free of charge, to local landless farmers. The agronomist of the Diocese and the farmers come to a mutual agreement about which crops they will plant on the Church's land. The agronomist remains in charge of supervising the farmers to ensure that land is put to good use and that the farmers reap an appropriately large harvest. Thanks to the successful harvest of 28 hectares, 254 families in the Diocese are now able to cover a large number of their basic needs including food supply, basic medical care and a portion of their children's school fees. Each growing season yields a crop of approximately 18,200 kilograms of soybeans, 22,400 kilograms of sorghum and 26,200 kilograms of corn.
The Cyangugu Diocesan Commissions has worked in different locations. The Diocese has focused on large spaces where they were not serving beneficiaries to the best of their ability. The benefits and gains from Diocese's hospital and health facilities staff working in synergy with their priest supervisors has enabled the Diocese to build a new health center in Nyakabuye parish, valued at more than 45 million RWF ($50,000 USD). The population served by these health facilities prefers to be treated in health centers and the only hospital of Mibirizi run by the Diocese. This health center has reduced the distance to the nearest health center by more than 5 kilometers for more than 500,000 people. Before the construction, they had to travel much farther into the high mountains to access other health centers. At the same time, this center has provided employment opportunities for more than 25 agents. Furthermore, Catholic health facilities have improved their image of quality service and eliminated any suspicion that accountants are stealing funds from the health center.
It should also be noted that the improved management of the health centers has allowed the Mibirizi Hospital to build new infrastructures. They moved to a new site, with a value of more than 40 million RWF ($43,700 USD). They are now able to offer quality service to 300,000 patients and coordinate 11 other health facilities.
The results were achievable only through the careful cultivation of the partnership and an explicit approach towards reflection, open communication, and "equitable negotiation" when difficulties and uncertainties arose, such as dealing with annual financial resources changes. CRS managers demonstrated in several ways their deep commitment to this relationship; remaining flexible in the process to respond to the expressed needs of the Church officials.
Due to the quality of the partnership and accompaniment relationship, Church officials maintained ownership throughout the stages of assessment, strategic planning, tools development and operationalization. This resulted in progressively increasing ongoing improvement and self-reliance. Additionally, Church officials have trained other staff and priests within their dioceses on management practices. In the future, officials will lead the management reform processes in the Church structure, which will be a slower, but a more sustainable and feasible process than having CRS take the lead in all dioceses.